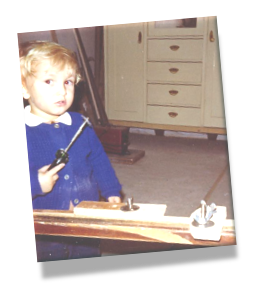 education and experience
As you can see I developed interest in technical systems at an early stage of my life. On the picture you can see me building the innovative machine that should save the world, extinguish poverty and solve the polution problems.
I attended schools, joined a technical college and finally studied computer science on the university:

technical college
HTBLA Wien 22, Nachrichtentechnik off-site link

additional exams in typewriting, digital circuit logic and computation
special interest in computer science and measurement applications
final exam and project: design, development and production of a high speed digital storage oscilloscope, including PCD design using PCAD, soldering, application software on a PC.
university
technical university vienna off-site link, computer science

additional exams in history of industrialization age, basic astrology, massive parallel computing, computer language theory, computer simulations, basic VDHL chip logic programming
projects in groups
software development
telecommunications
simulation technology
implementation of a advanced graphical windowing system
3d game development and computer graphics
computational geometry
human/user interface design
non-technical impact analysis of technical systems
jobs during education
tutoring for

software development
microsoft office, especially Excel
man-machine interfaces

specification and implementation of complex simulation systems
operating companies computer installations, network and internet access
development of macros
web pages, web sites